Founder Dr. Yutaka Nakamura
 Dr Yutaka Nakamura, founder of Japan Sun Industries(JSI), was born in Beppu city, Oita prefecture. He graduated from Kyushu University in 1951 and entered medical office in Kyushu University.
 He started his carrier as a researcher of the field of medical rehabilitation study, which was undeveloped field at that time, instructed by Amako Tamikazu,emeritus professor of Kyushu University.

Dr. Nakamura also studied at Stoke Mandeville Hospital in England, National Center for Spinal Cord Injuries under the supervision of Sir Ludwig Guttmann. Dr. Nakamura was shocked that sport was incorporated into the rehabilitation program and doctors were working in cooperation with the people of various fields in order to support medical and social both rehabilitation for spinal cord injuries in Stoke Mandeville Hospital. This was in the wake of his passion for social participation of people with phisical disabilities and their independence through work and sports in particular.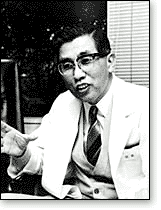 Late Dr. Yutaka Nakamura
 He dedicated himself into the holding of 1964 Tokyo Paralympic and served as the head of Japanese team. Through various of experiences and the meeting with Chieko Akiyama(commentator and radio personality), Tsutomu Minakami(author) led him to the belief that the most necessary for Persons with Disabilities was "To be independent with Job". Japan Sun Industries(Japanese name is "Taiyonoie" means "home of the Sun" in English named by Minakami,T) was established 1965 one year after the Tokyo Paralympic with the motto of "No Charity but a Chance" and "Even there are disabled people, but there are no disability to work".
 JSI established joint venture companies with Omron, Sony, Honda, Mitsubishi Corporation, Denso and etc.employed a lot of people with severe disabilities. JSI promoted the improvement of the working environment and the development and the implement of self-help tools for people with disabilities and it has been successful in manufacturing, manual labor, assembly-line work, simple task, even skilled work and brain work.
 Dr.Nakamura advocated to create the "urban development plan of welfare" around Kamegawa town in Beppu city, where JSI headquarters is located, to Oita Prefecture with the aim that people with disabilities actively involved in the community as one citizen rather than closing door from the society.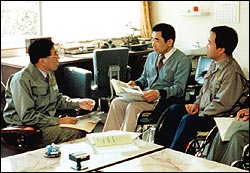 Factory managers and Dr. Nakamura
 The other passion of Dr. Nakamura dedicated his life was disabled sports. Dr. Nakamura diligently persuaded his patients, doctors, physical education stakeholders, Oita prefecture office, and physically disabled people etc to establish "Oita Sports Association for the Physically Disabled Persons". In 1961 October 22nd for the first time in the history in Japan, the First Oita Prefecture Physically Disabled Sports Competition was organized. 1st Fespic(Far East and South Pacific Games for the Disabled) in 1979 and 1st International Oita Wheelchair marathon launched in Oita by his advocate. Fespic has been held until 2006 9th Fespic in Kuala Lumpur, Malaysia and renamed by Asian Para Games. International Oita Wheelchair Marathon is succeeding and reached to 34th event in 2014.
As a member of The International Society for the Rehabilitation of the Disabled (former International Rehabilitation), Dr. Nakamura also supported to hold International Abilympics in 1981 and the 1st International Meeting on Leisure, Recreation and Sports for the Disabled(RESPO) in Aichi in 1984.
 As a medical doctor, he managed 2 hospitals which performed from emergency medical care to medical rehabilitation. Also he served International Paraplegia Medical Association Vice-President 1989~1983 and the chairman of the Japan Medical Society of Paraplegia 1979~1980.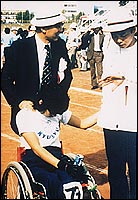 1st Oita Wheelchair Marathon
 23rd July 1984, Dr. Nakamura passed away at the age of 57. At the same time of the day when International Stoke Mandeville Games Opening Ceremony was being held. All the participants of the Games from all over the world offered one minute of silence in honor of Dr. Yutaka Nakamura.